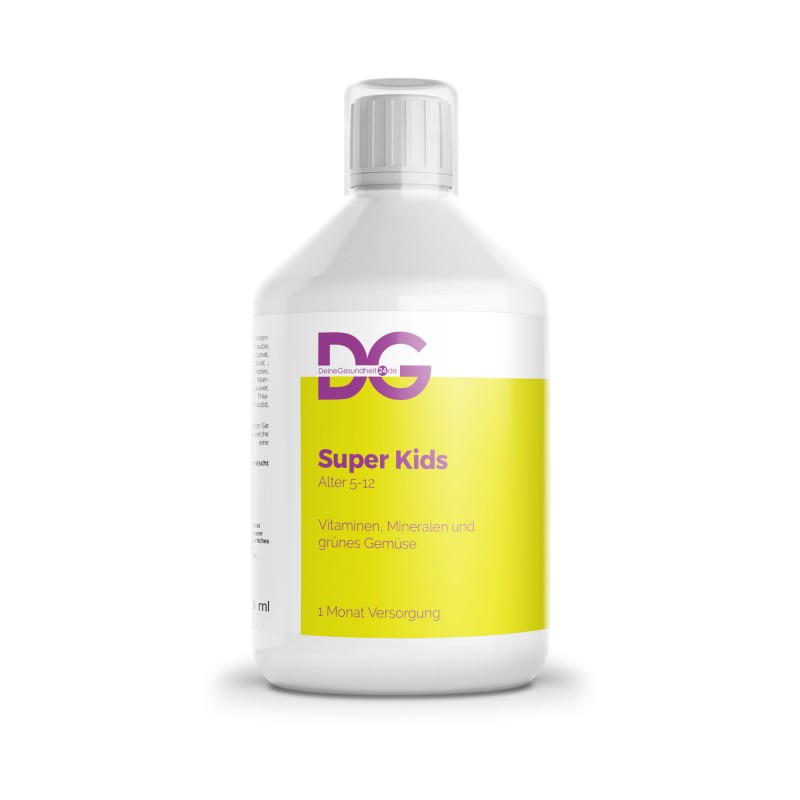  
SUPER KIDS
Vegan formula with nutrients to support kids' health and memory functions. Ages 5-12.
GMO-free and naturally free from gluten, soy, egg, nuts and lactose. 100% natural aroma and color.
15 ml contain:
Vitamin A 400 µg
Vitamin C 90 mg
Vitamin D3 7.5 µg
Vitamin E 5 mg
Vitamin B1 0.5 mg
Vitamin B2 0.7 mg
Vitamin B3 8 mg
Vitamin B5 4 mg
Vitamin B6 0.7 mg
Vitamin B7 30 µg
Vitamin B9 100 µg
Vitamin B12 1 µg
Calcium 3.6 mg
Magnesium 1.34 mg
Zinc 3.3 mg
Selenium 11.25 µg
Manganese 0.5 mg
Chrome 10 µg
Potassium 8 mg
Iodine 25 µg
Choline L-bitartrate 6.24 mg
Inositol 5 mg
PABA 2 mg
Lutein ester complex 5 mg
CoQ10 1 mg
Spirulina 2 mg
Alfalfa powder 2 mg
Broccoli powder 2 mg
Ingredients: multi-filtered water, natural fruit juice mix from concentrate: orange, apple, mandarin, guava, papaya, lime, mango, pineapple, grape, sweetener (fructose), ascorbic acid, aroma (natural orange), calcium gluconate, magnesium gluconate, zinc gluconate, acidity regulator (citric acid), potassium citrate, emulsifier (xanthan gum), choline-L-bitartrate, niacin, inositol, lutein ester complex, dl-alpha-tocopherylacetate, freshness-keeping agent (potassium sorbate, sodium benzoate), manganese gluconate, pantothenic acid, Paba, spirulina powder, alfalfa powder, broccoli powder, citrus bioflavonoids, coenzyme Q10, cholecalcolinol, Pyridoxine HCl, thiamine HCl, folic acid, beta-carotene, chromium picolinate, retinyl palmitate, biotin, potassium iodide, sodium selenite, cyanocobalamin, sweetener (steviol).

If you suffer from an illness, or if you are pregnant or breastfeeding, contact your doctor before use. Discontinue to use if there are any side effects. Dietary supplements should not replace a varied diet.

Can be taken directly or mixed with your child's favorite juice.
Store cool. Store in the refrigerator after opening.
Use within 2 months of opening.
Keep out of the reach of small children.
Consumption recommendation: Every morning at the age of 5-9 years 15ml, age 10-12: 30ml. Shake well before use.