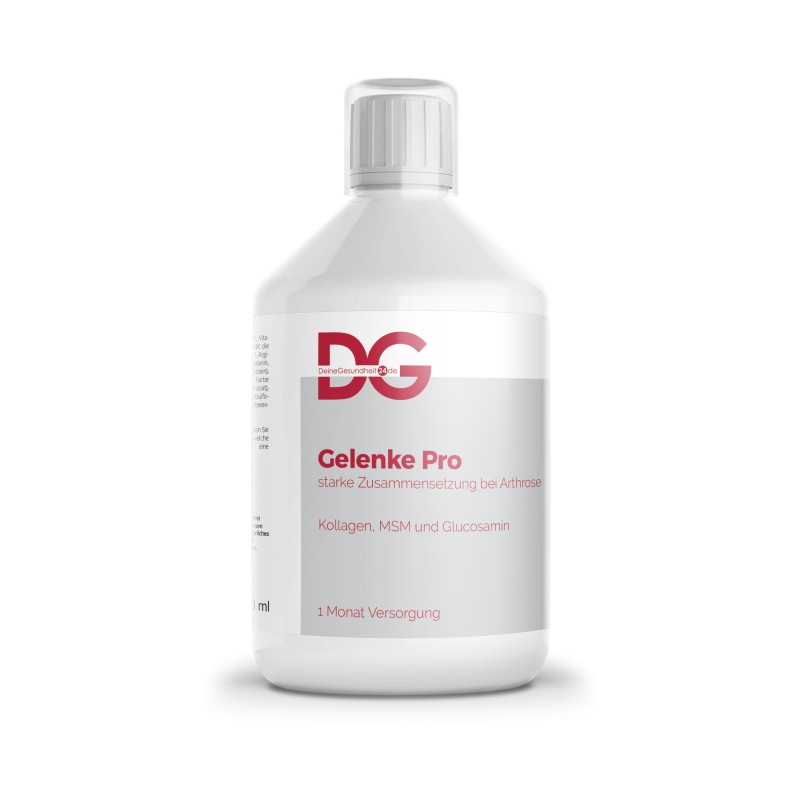  
GELENKE PRO
Strong osteoarthritis formula with high-dosage fish collagen.

GMO-free and naturally free from gluten, soy, egg, nuts and lactose. 100% real aroma and color.

15 ml contain:

Vitamin C ascorbic acid 120 mg
Vitamin B12 cyanocobalamin 5 µg
Vitamin D3 cholecalciferol 15 µg

Herbal mixture 2 mg
Turmeric & green tea extract

Proprietary joint blend 6000 mg
Hydrolyzed collagen
Methylsulfonylmethane (MSM)
Glucosamine sulfate
Chondroitin sulfate
L-Carnintine10,000 mg


Ingredients: pure multi-filtered water for best uptake of collagen, vitamins and nutrients, sweetener (fructose), hydrolyzed collagen, contains the amino acids:  L-glycine, L-proline, L-alanine, L-hydroxyproline, L-glutamic acid, L-arginine, L-aspartic acid, L-serine, L-lysine, L-leucine, L-valine, L-threonine, L-phenylalanine, L-isoleucine, L-hydroxylysine, L-methionine, L-histidine, L-tyrosine, L-cysteine, ascorbic acid, flavor (natural fruit), emulsifier (xanthan gum), color (natural purple potato extract), freshness preserver (potassium sorbate, sodium benzoate), acidity regulator (malic acid, citric acid), sweetener (steviol glycosides), methylsulfonylmethane, glucosamine sulfate, chondroitin sulfate, l-carnitine, turmeric, green tea extract, cholecalciferol, cyanocobalamin.

If you have an illness, or are pregnant or breast-feeding, contact your doctor before use. Discontinue to use if any adverse reactions occur. Dietary supplements should not replace a varied diet. Allergy warning: contains fish.

Store cool. Store in the refrigerator after opening.
Use within 2 months of opening.
Keep out of the reach of small children.
Consumption recommendation: 15 ml per day. Shake well before use.
500 ml