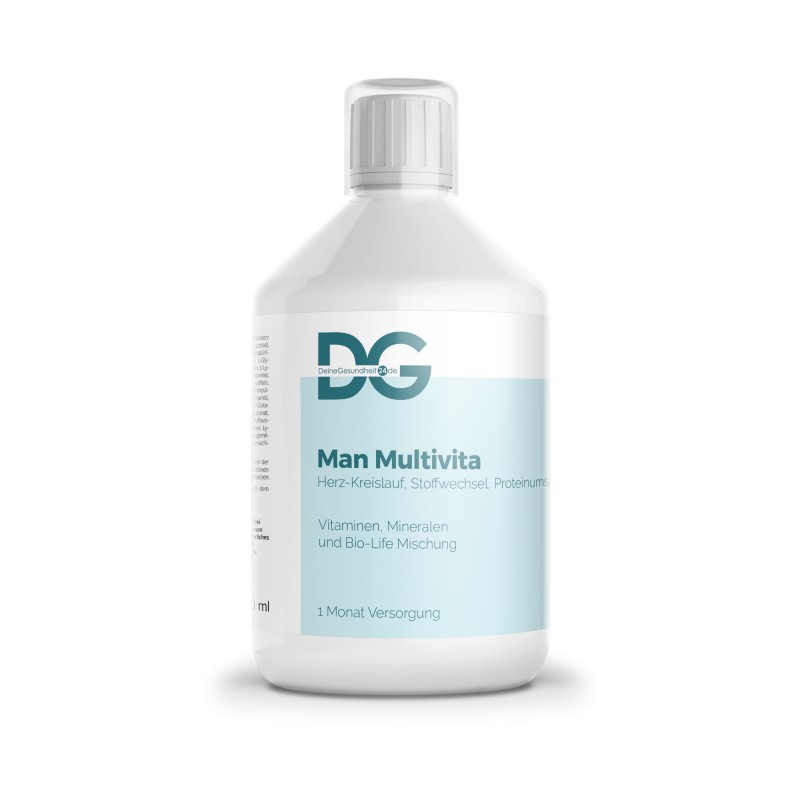  
MAN MULTIVITA
Advanced formula to increase alertness, stamina and overall health level in men.
GMO-free and naturally free from gluten, soy, egg, nuts and lactose.
100% real aroma and color.


15 ml contain:
Vitamin A 800 µg
Vitamin C 500 mg
Vitamin D3 15 µg
Vitamin E 12 mg
Vitamin B1 30 mg
Vitamin B2 30 mg
Vitamin B3 30 mg
Vitamin B6 20 mg
Vitamin B9 400 µg
Vitamin B12 100 µg
Vitamin B7 400 µg
Vitamin B5 30 mg
Vitamin K2 75 µg
Calcium 25 mg
Magnesium 13,4 mg
Zinc 7 mg
Selenium 55 µg
Copper 1 mg
Manganese 2 mg
Chromium 200 µg
Potassium 107 mg
Iodine 75 µg
72 trace minerals (ocean vegetarian) 25 mg
Choline L-Bitrate 12,5 mg
Inositol 25 mg
PABA 6 mg
Lutein 10 mg
Zeaxanthin 2,5 mg

Man amino boost blend 1500 mg

Man bio-active life blend 75 mg
Ingredients: multi-filtered water, natural fruit juice mix from concentrate: orange, apple, mandarin, guava, papaya, lime, mango, pineapple, grape, sweetener (fructose), L-ascorbic acid, potassium citrate, calcium gluconate, magnesium gluconate, natural flavors (natural orange, natural strawberry), hydrolyzed collagen; contains the amino acids: L-glycine, L-proline, L-alanine, L-hydroxyproline, L-glutamic acid, L-arginine, L-aspartic acid, L-serine, L-lysine, L-leucine, L-valine, L- Threonine, L-phenylalanine, L-isoleucine, L-hydroxylysine, L-methionine, L-histidine, L-tyrosine, L-cysteine, zinc gluconate, ginseng Panax CA Meyer, anhydrous caffeine, preservative (potassium sorbate, sodium benzoate), choline-l-bitartrate, zeaxanthin powder, emulsifier (xanthan gum), D-calcium pantothenate, thiamin-HCl, riboflavin, niacinamide, pyridoxine-HCl, inositol, Dl-alpha-tocopheryl acetate, manganese gluconate, L-taurine, L-carnitine, L-glalaminifer Lutein, aroma (natural vanilla) 4-aminobenzoic acid, copper gluconate, chromium picolinate, folic acid, sweetener (steviol glycosides), alfalfa powder, broccoli powder, citrus-bioflavonoid powder, acacia powder, acerola powder, pomegranate powder, lycopene powder, CoQ10-ubiquinone, ginkgo biloba powder, aloe vera powder, fresh preservatives (malic acid, citric acid), D-biotin, retinyl palmitate, potassium iodide, beta-carotenes, menaquinone, sodium selenite, cyanocobalamin.
If you have an illness, or are pregnant or breast-feeding, contact your doctor before use. Discontinue to use if any adverse reactions occur. Dietary supplements should not replace a varied diet. 

Store cool. Store in the refrigerator after opening.
Use within 2 months of opening.
Keep out of the reach of small children.
Consumption recommendation: 15ml per day. Shake well before use.
500 ml