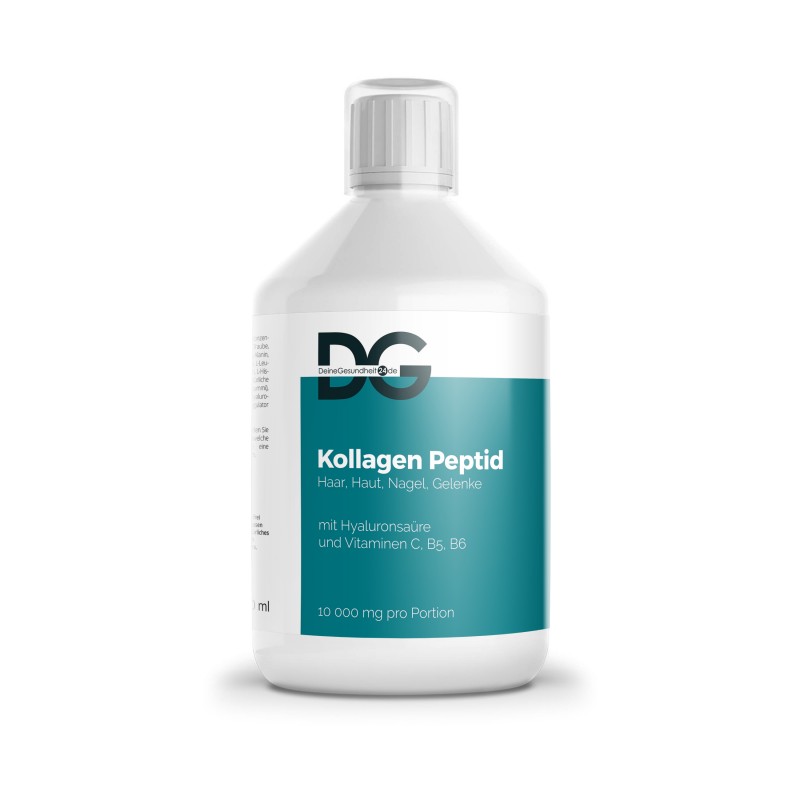  
KOLLAGEN PEPTID 10 000
Helps with healthy hair, skin, nails and joints.

GMO-free and naturally free from gluten, soy, egg, nuts and lactose. 100% real aroma and color.

25 ml contain:
Hydrolyzed fish collagen 10,000 mg
Vitamin C L-ascorbic acid 120 mg
Vitamin B5 pantothenate 5 mg
Vitamin B6 pyridoxine HCl 1 mg
Vitamin B7 biotin 5,000 µg
Vitamin B12 methylcobalamin 24 µg
Copper (copper gluconate) 1 mg
Hyaluronic acid (vegan sodium hyaluronate) 50 mg
Silica (silicon dioxide) 7 mg
Ingredients: multi-filtered water, natural fruit juice mix from concentrates: orange, apple, tangerine, guava, papaya, lime, mango, pineapple, grape, hydrolyzed fish collagen; contains the amino acids: L-glycine, L-proline, L-alanine, L-hydroxyproline, L-glutamic acid, L-arginine, L-aspartic acid, L-serine, L-lysine, L-leucine, L-valine, L- Threonine, L-phenylalanine, L-isoleucine, L-hydroxylysine, L-methionine, L-histidine, L-tyrosine, L-cysteine, sweetener (fructose), L-ascorbic acid, flavor (natural strawberry), natural color (purple potato powder), Emulsifier (xanthan gum), freshness-keeping agent (potassium sorbate, sodium benzoate), copper gluconate, sodium hyaluronate, D-calcium pantothenate, silicone dioxide, D-biotin, pyridoxine HCl, acidity regulator (citric acid, malic acid), sweetener (steviol glycosaminides), methylcobalamin.

If you have an illness, or are pregnant or breast-feeding, contact your doctor before use. Discontinue to use if any adverse reactions occur. Dietary supplements should not replace a varied diet. Allergy warning: contains fish.

Store cool. Store in the refrigerator after opening.
Use within 2 months of opening.
Keep out of the reach of small children.
Consumption recommendation: 25ml per day. Shake well before use.
500 ml