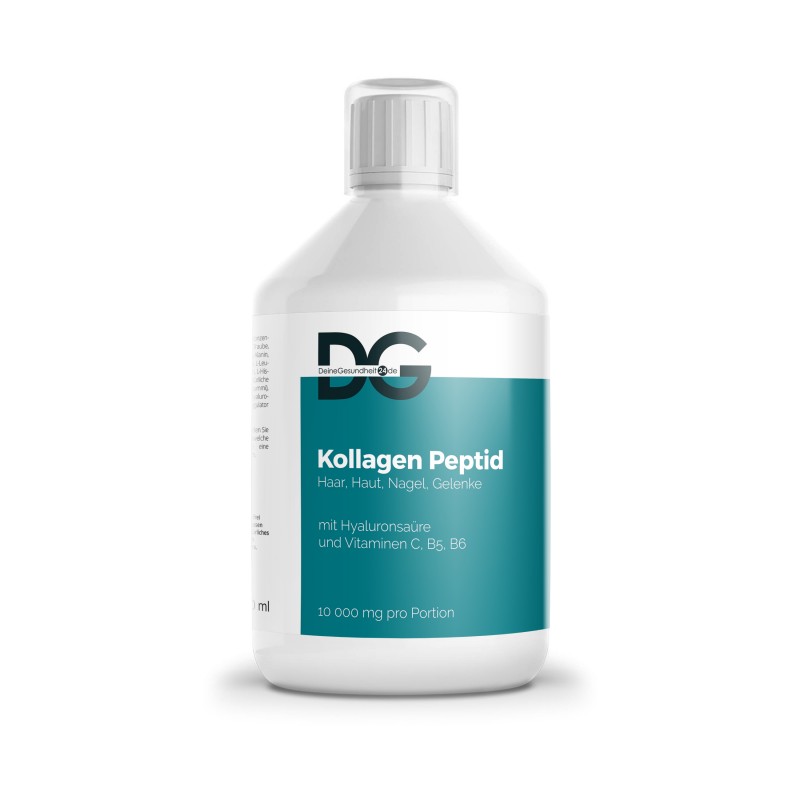  
KOLLAGEN PEPTID 10 000
Finally, get your healthy bright skin, silky hair, strong nails and joints with Kollagen Peptid. Natural liquid collagen supplement with berry flavor +additional vitamins and minerals from DG24.

GMO-free and naturally free from gluten, soy, egg, nuts and lactose. 100% real aroma and color.
Daily dose of 25 ml contain:
Hydrolyzed fish collagen 10,000 mg
Vitamin C L-ascorbic acid 120 mg
Vitamin B5 pantothenate 5 mg
Vitamin B6 pyridoxine HCl 1 mg
Vitamin B7 biotin 5,000 µg
Vitamin B12 methylcobalamin 24 µg
Copper (copper gluconate) 1 mg
Hyaluronic acid (vegan sodium hyaluronate) 50 mg
Silica (silicon dioxide) 7 mg
After the age of 25, natural collagen production in the body begins to decline. This leads to a loss of skin elasticity and the appearance of wrinkles. By taking Kollagen Peptid daily, you help rebuild and restore collagen levels in the body for younger, healthier skin at the cellular level.
The formula contains top quality marine collagen and hyaluronic acid. Moreover, it is enriched with biotin, vitamins and minerals carefully selected for their beauty beneficial properties. Together, they protect and reproduce healthy skin cells, reduce fine lines and wrinkles, improve overall skin quality and help keep it healthy and strong.
Ingredients: multi-filtered water, natural fruit juice mix from concentrates: orange, apple, tangerine, guava, papaya, lime, mango, pineapple, grape, hydrolyzed fish collagen; contains the amino acids: L-glycine, L-proline, L-alanine, L-hydroxyproline, L-glutamic acid, L-arginine, L-aspartic acid, L-serine, L-lysine, L-leucine, L-valine, L- Threonine, L-phenylalanine, L-isoleucine, L-hydroxylysine, L-methionine, L-histidine, L-tyrosine, L-cysteine, sweetener (fructose), L-ascorbic acid, flavor (natural strawberry), natural color (purple potato powder), Emulsifier (xanthan gum), freshness-keeping agent (potassium sorbate, sodium benzoate), copper gluconate, sodium hyaluronate, D-calcium pantothenate, silicone dioxide, D-biotin, pyridoxine HCl, acidity regulator (citric acid, malic acid), sweetener (steviol glycosaminides), methylcobalamin.
If you have an illness, or are pregnant or breast-feeding, contact your doctor before use. Discontinue to use if any adverse reactions occur. Dietary supplements should not replace a varied diet. Allergy warning: contains fish.

Store in a cool, dry place away from sunlight.
Best to be kept in refrigerator after opening.
Use within 2 months of opening.
Keep out of the reach of small children.

Consumption recommendation: 25ml per day before on empty stomach or before going to bed. Shake well before use.

500 ml