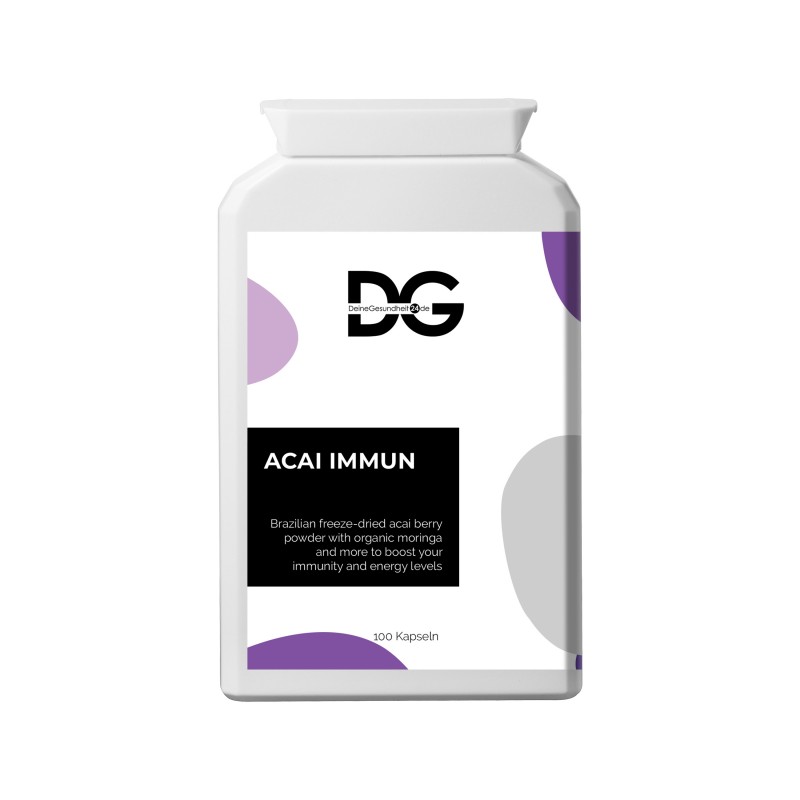  
ACAI IMMUNE
high-potency formula for your immunity, energy, bones, hair, skin and nails 

Free from colorings, flavorings and preservatives, lactose, gluten, soy, sugar, yeast. Suitable for vegetarians and vegans. Kosher.

Each capsule contains:
freeze-dried acai berry powder 100 mg,
Acai berry extract (equivalent to 1000 mg acai berry powder) 100 mg,
Organic Moringa Oleifera Powder 100 mg,
Beetroot powder 50 mg pomegranate extract (equivalent to 240 mg pomegranate powder, 8 mg ellagic acid) 20 mg,
Resveratrol - 5 mg,
Grape seed extract (equivalent to 2.5 mg powder) 0.025 mg.
Ingredients: acai berry extract 10: 1, lyophilized acai berry powder, organic moringa oil powder, beetroot powder, anti-caking agent: magnesium stearate (magnesium salts of fatty acids), pomegranate extract 12: 1 (40% ellagic acid), resveratrol 98%, zinc citrate powder, vitamin B6 , Pyridoxine. Grape seed extract, vitamin B7, D-biotin. Capsule shell: Hydroxypropylmethylcellulose (HPMC) (vegetarian).

Note: The recommended daily intake should not be exceeded. Dietary supplements should not be used as a substitute for a varied, balanced diet and a healthy lifestyle. Consult your doctor before taking any nutritional supplements.
Keep out of reach of small children. Store in a cool and dry place.

Recommended intake: 1 to 3 capsules per day.

100 capsules